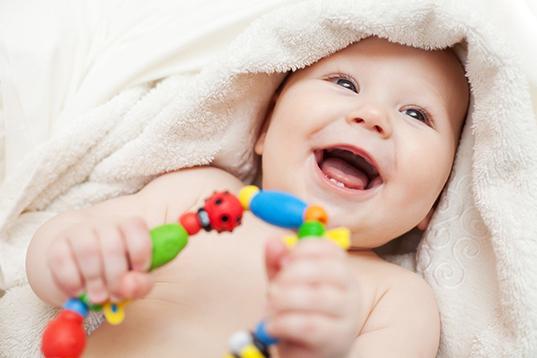 How to handle first teeth
Teething is a difficult period in life of your baby. How to help your baby handle this time and what should you avoid doing? Here are some useful tips for you.
Help during teething
Sleepless nights full of nervousness and quandary. Your baby is growing first teeth and you do not know how to help him. Here are some advices for you.
Love – give your baby even more kisses, hugs and love. Nothing is more important than parental love. Be patient also in days when it is hard.

Gums massage – gently massage gums with a clean finger, a teether or a wet cotton diaper. First, it may not seem good but is soothing for your baby.

Teethers and toys – there are a lot of helpers in the market. Choose those made from safe materials. The teether you can cool in a fridge or in a freezer (for a moment). Do not freeze it a lot because it could harm gums of your baby. The kid toothbrush is also a good tool. Besides biting, it makes a good habit for future cleaning.

Turn baby´s attention to something else – changing activity or environment helps baby turn attention away from teeth. Go for a walk, play, do whatever baby likes or enjoys.

Cold drinks and food – In case your baby already eats a baby food, you can give him or her a little amount of cool mash or yoghurt. 

Brush the face of your baby – if there is a redundant salivation, you should brush the face of your baby with a face cream or oil (cocoa, almond). This way you prevent your baby from getting a rash. You can protect the neck with cotton scarves or bibs.

Pills – if there is no improvement, you should discuss it with your pediatrician. He or she can recommend some pills or homeopathic to you.
What you should not do
Do not coat gums with alcohol, honey or lemon juice. It can harm gums, tooth or lead to formation of premature caries. Effectiveness of local anesthetic gels is low because your baby produces too much saliva. Also, it may not be the safest option (many contain alcohol or artificial sweeteners, so it is best to avoid these or use natural based ones). You should be careful with use of herbs too.
It requires your care to keep your children teeth healthy and beautiful. The right time and way for the first cleaning of your children's teeth is explained in our next blog.